Would you like to communicate better with your dog?  Learn not only how to train him, but also how to understand why he does what he does?  Would you like to have fun while you both learn? We can help!
Join us as Sandy Meadow Farm Dog Obedience School for one of our many informative, helpful classes.  Our knowledgeable and dedicated staff is here to answer your questions and guide you through the training process with detailed step by step instructions.  We will show you techniques that truly work and are easily adaptable for everyday families in real life situations. Whether you want just a great companion pet, or strive for competition working titles, we can guide you on your way!
We understand how frustrating dog training can be!  At Sandy Meadow Farm,  we specialize in small group classes of 10 dogs which allows for maximum individual attention and assistance.   Trainers are quick to answer questions and offer guidance to eliminate problem behaviors while encouraging good habits. We promote family involvement during the training process, and will offer many suggestions and hints to better manage your dog while he learns proper manners.
COVID UPDATE:  We are following the current medical climate and CDC recommendations and are adjusting protocols as needed.   Classes are currently on site, indoors, and outdoors with appropriate weather.  If we can not get students here due to severe inclement weather, we will meet via zoom that week. We are happy to report that we installed a brand new heating/AC system for our client's protection in our building. The new system is a high efficiency, 5 ton HVAC system with continuous hospital grade air filtration and an ultra violet light sanitizer.  We will continue to limit our class size to 6 dog/handler teams. Please check the schedule under SERVICES for updates on available classes. 
                                       Curious what our outdoor classes look like?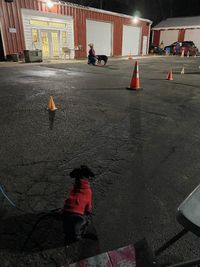 Here is a photo of our evening classes under 
                                                 the new Stadium lighting!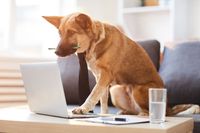 VIRTUAL CLASSES AT SMF!! We will continue to offer virtual classes as a training option to help you train at home! We utilize Zoom Video Conferencing for our weekly live semi private group classes, allowing you to receive feedback and instructions from your trainer while watching demonstrations with a trained dog as well as classmate dogs. You will be training your dog in your home during these sessions. These classes do require an online camera accessible through your computer, laptop, smart phone or tablet. Each week you will receive via email the code to join the class, and after each class you will receive a follow up video for review and associated helpful paperwork. Trainers will be available to answer additional questions in between classes. We do recommend that you test your equipment prior to starting class, and will suggest everyone join a few minutes early on week 1 to assure equipment is working properly. Register and Pay through the registration tab at the top of the page - virtual and video classes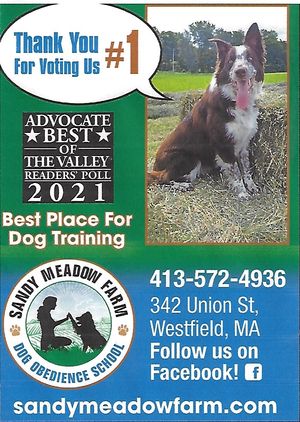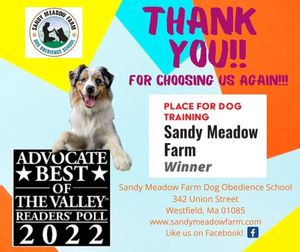 Melissa Kielbasa and Jill Haley Rose recently shared the stage on Mass Appeal discussing and demonstrating relaxed restraint exercises:
http://wwlp.com/2017/02/16/pets-relaxed-restraint-body-handling-muzzles/


Are you expecting a new baby? Planning on the new grand baby spending time at your home? Wondering how to help your dog transition successfully to life with a newborn? Join the licensed presenter for a workshop this summer. $50 for 2 adult attendees. DOGS and STORKS workshop  Please see workshop page for more details.  


Check out graduation of our Level 1 Trick class :  http://youtube.com/watch?v=SDV_JqUT3GA
THE SOCIAL STRUGGLER CLASS 
is designed to lower stress in you are your dog, build focus and attention, train alternate behaviors to over arousal, and reinforce the absence of reactivity in difficult and challenging situations. Elizabeth Nally, CPDT  is offering both Level 1 and Level 2 classes at  Sandy Meadow Farm.  These Specialized Behavior Courses will be run as semi private classes with only 3 - 4 dogs accepted at a time. Classes will meet for 4 weeks at a cost of $180

THE WESTFIELD WOOFERS DANCE TEAM - www.youtube.com/watch?v=huefjsknP-g
 
CGC TESTING: Next test: Wednesday, September 20, 2023 beginning at 7:00 pm. Please contact school to register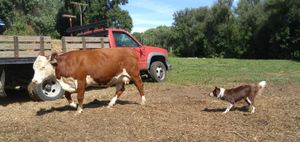 SANDY MEADOW FARM OBEDIENCE
342 UNION STREET
WESTFIELD, MA 01085
https://www.google.com/maps/place/342+Union+St,+Westfield,+MA+01085
You are visitor number: 158695